By now you all know that Empire Presents… Big Screen hits London's O2 on August 13th and 14th, but did you also know that there is a new film festival in Ireland, just for us geeks, taking place on the same weekend?

Ireland has one of the largest cinema going audiences in the world, but until now, all we could do was watch the coverage of Comic-Con, and scrimp and save for the airfare… But despair no more! Movie Fest – Ireland's newest film festival – is taking place at Dublin's Cineworld on August 13th and 14th.
What is Movie Fest? I hear you ask, well Movie Fest is bringing the best of San Diego's Comic-Con to Irish audiences, including preview screenings, trailers, clips, exclusive movie footage – some of which was not even seen at Comic-Con –and much much more.
Movie Fest is the brainchild of Vincent Donnelly, founder and driving force behind Ireland's only dedicated film site, Movies.ie. "We really wanted to bring an event for film fans to Dublin that had an air of genuine excitement around it," commented Vincent Donnelly, creator of Movie Fest. "We had taken note of how huge Comic Con has become in the US, now attracting thousands of people and the biggest stars, and wanted to try to recreate some of that excitement here. Irish audiences, among the most frequent moviegoers in the world, can sometimes be neglected when it comes to access to an all-inclusive event like this, and we wanted to make sure that while it was modelled on Comic Con, it's a very unique event," he continued. "There will be plenty of surprises over the weekend, and plenty of prizes and goody bags for members of the audience, so if you're a movie fan, this is definitely the event for you."
Before you run screaming for the hills, or you are afraid of mixing up your Spocks and your Skywalkers, don't panic! You do not have to be a hardcore fan to appreciate this festival. Movie Fest gives Irish audiences the chance to have a look at the biggest films of the year, without having to go to the ends of the earth to do so. We may be (still) jumping up and down about the teaser trailer for The Avengers, but if you just like seeing the biggest films first that's OK. Movie Fest has something for everyone.
Among the fantastic screenings, Movie Fest will be showing…
Fright Night
Starring Colin Farrell and David Tennant

The Change Up
Starring Jason Bateman and Ryan Reynolds

Cowboys and Aliens
Starring Daniel Craig and Olivia Wilde

30 Minutes or Less
Starring Danny McBride and Jesse Eisenberg

There will be a surprise screening on each day of the Fest as well as 3D Footage from the new Spiderman movie, 4 minutes from Tintin, 4 minutes from Liam Neeson's new film Battleship and 5 minutes of Colin Farrell taking over Arnie's job in the new Total Recall movie. Plus lots lots more…
Whether you are put off by the travelling involved in making it to Comic-Con, are afraid what the San Diego heat will do to your pasty Irish skin or you watched the leaked trailer for The Dark Knight Rises with bated breath, not caring that it may be fake, Movie Fest has something for you.
Start guessing the mystery screenings now! What do you think they will be?
Full line up available here.
Tickets can be bought at the Cineworld Box Office or online here…
Keep an eye on the Movie Fest website for all the newest information as it is announced.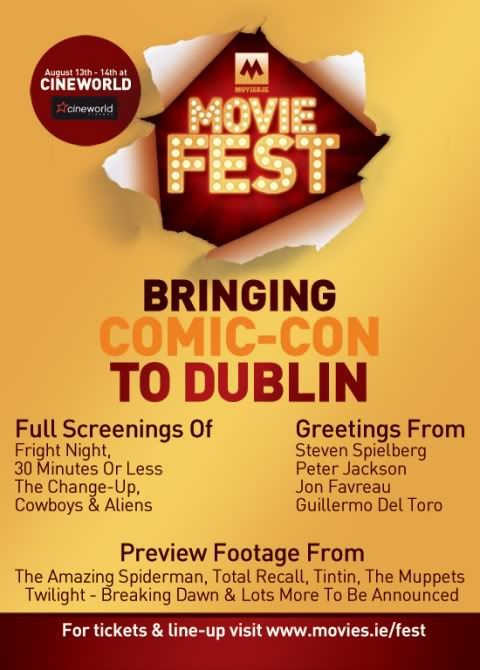 See all you geeks there!
GS Reporter: Brogen