Bad news for Greendale fans this week, as NBC announced that Community is on hiatus.
Earlier this week NBC released it's midseason schedule and Community was nowhere to be found. Fans immediately went into overdrive on Twitter and Facebook, wondering what this could mean for the fan favourite comedy.
What it means is this; Community is off the schedule for the time being and has been replaced by 30 Rock in it's coveted Thursday night time slot. While Community has gone from our screens, it has not officially been cancelled. A source told The Hollywood Reporter that the show will return at some point, and tweets from cast members indicate the same.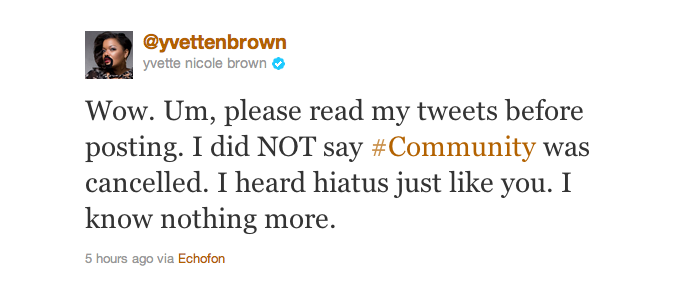 The problem is that this may be during the summer, which will cause more problems with the show's ratings.
So while this is not bad news, it is not explicitly good news either. Community is critically acclaimed and has a very loyal following. The problem is that this fan following is rather small. While we Geeks may be discussing each week's episode over our Friday night pint, it seems that the show's quirky humour has gone over the head of much of NBC's audience.
The only rays of light at the moment is that if the show holds on long enough to have a fourth season, it will have enough episodes to be sold into syndication. The show is currently on season three, so fans will just have to cross their fingers and wait. The other good news is that NBC loves Community as much as we do…
It seems that cast members are as upset as we are at the news that the show has gone on hiatus. Dany Pudi and Allison Brie have both tweeted their thanks for the outpouring of love and outrage from fans today.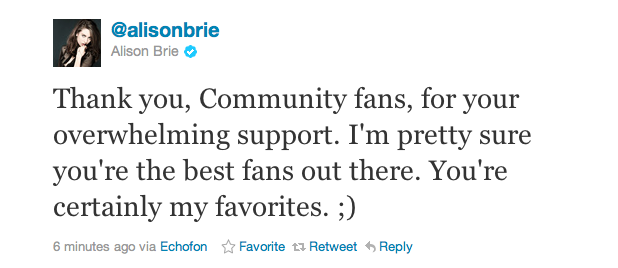 All is not lost, but this is not good news for Community. To keep us going until we hear more from the show that brought us Starburns, Senor Chang, Troy and Abed in the Moooorning and countless other brilliant moments, here are some of the best moments of Community… So far.
GS Reporter: Brogen
The Fabulous Outfits of Dean Pelton

Magnitude

A Fistful of Paintballs

…And ultimate irony, Toy and Abed try and get Firefly back on the air