This Issue: Mobile Phones, Moon-bases & How to Use DNA to Store Digital Data!
Double Helix For Error Free Data Storage
Researchers at the European Bioinformatics Institute reported in the journal Nature that they had managed to store digital information in synthetic DNA molecules, and then recreated the original digital files – error free. The amount of data was only a mere 739 KB, hardly anything by today's TeraByte hard drive standards – but it was enough to store all 154 of Shakespeare's sonnets, a scientific paper, a color digital photo, a 26-second audio track from the Rev. Dr. Martin Luther King Jr.'s "I have a dream" speech and a software algorithm.
But although this the first time digital information has been stored in DNA, the new technique, which includes error-correction software, was a step toward a digital archival storage medium of immense scale – the end goal is a system that will safely store the equivalent of one million CDs in a gram of DNA for 10,000 years. The imperative driving this is that at some point it could outpace today's chips & disk drives, whose capacity continues to double roughly every two years (Moore's Law).
Blackberry 10 Handset Launched First in the UK
The UK scored a first with the release of two handsets powered by the new Blackberry 10 operating system. The Z10 is controlled via a 4.2in (10.7cm) touchscreen while the Q10 has a smaller 3.1in (7.9cm) screen and physical keyboard. The future of the brand – which has switched its company name from Research In Motion to Blackberry – will be determined by these two phones. According to market data, Blackberry used to have over 19% of global smartphone shipments back at the start of 2010,  but that figure had dropped to less than 4% by the end of 2012.
The new GUI allows up to 8 apps to run simultaneously, 4 of which are visible in small windows – described by the firm as "true multitasking". The handsets also includes features designed to make them crossover business-personal divide: Blackberry Balance sets up a "work perimeter" on the phones so that data belonging to the user's employer can be limited to approved business or encrypted apps, while photos and other personal information can be used across a wider range of social media apps.
Blackberry said it has more than 70,000 additional apps for its Blackberry World app store including Skype, Angry Birds, Facebook and Whatsapp, and offers music, TV shows and movies (there is no official YouTube app as yet), but that's still a far cry against the most popular smartphone platforms: Google's Android and Apple's iOS.
Pantech ReleasesWorlds Largest Full HD Smartphone
South Korean phone OEM Pantech has unveiled the largest screen smartphone to date with a full HD LCD capable of 1080p high-definition video at full resolution. Pantech's Android-powered Vega No 6 features a 5.9in (15cm) display, which packs in 373 pixels per inch, beating Huawei's recent 6.1in handset which onl y supported a 720p display.
This adds another round to the so-called "phablet" category of gadgets, as manufacturers push the envelope on how big a device customers are prepared to accomodate. Dell had set the standard with its 5in Streak 5, but had ended up discontinuing it in favour of very crowded 7in tablet market. Samsung then followed with its 5.3in Galaxy Note, which many feared would be too large to find favour, but which proved a success and lead to a larger successor last year. More super-sized handsets are expected to be announced at the Mobile World Congress in Barcelona from the likes of Sony, LG, HTC and ZTE.
The trend is suspected to be driven in emerging markets where most customers could not afford both a phone and a tablet, and has found favour as a "smart" remote control as well.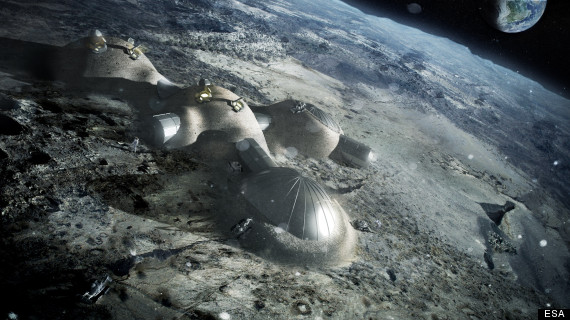 Moonbase Alpha… In Our Lifetime..?
Architects Fosters & Partners have unveiled their design for a surface base station on the Moon that could be constructed from lunar surface materials. An inflatable structure would be transported to the moon, and then covered with a "shell construct"by 3D printers. These printers, operated by robots, would use soil from the Moon to build the layered cover. The proposed site for such a base would be the South Pole of the Moon. Initially designed to house four people, it could be extended.
Sources: Huffington Post, This Day Live, Trusted Reviews, Nature
Reporter: SilverFox