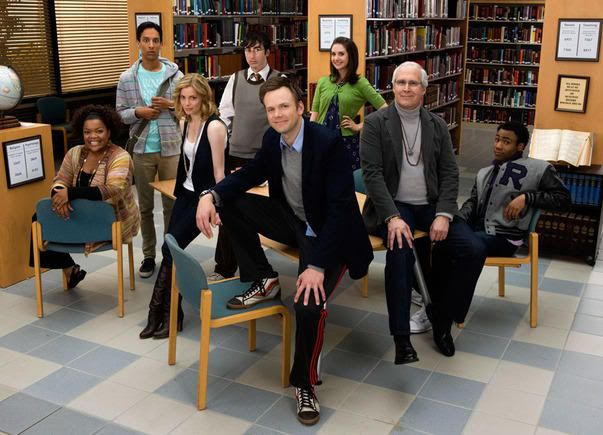 It is the first day of a new school year and the gang are delighted to be back at Greendale… Or so Jeff's (Joel McHale) Glee-style reverie would have us believe. The gang are taking Biology together, Troy (Donald Glover) and Abed (Danny Pudi) are living together and Pierce is still gone, but not for long. When the gang start classes, it is not long before Jeff's laxadaisy attitude gets him thrown out of class. Conveniently, this is when Pierce (Chevy Chase) gets into the class. Jeff sets out to prove that Pierce sabotaged him.
Meanwhile, the Dean (Jim Rash) finds out that the Vice Dean (John Goodman) bought an espresso machine without authorisation and sets about flexing his muscles and proving his new 'straight man' attitude. The problem is, the Vice Dean and the Air Conditioning Repair School Annex pay for the rest of the school to stay open, so the Dean has a fight on his hands. Oh, and Annie's Boobs (the monkey) is still running around the air vents and the Dean wants him gone. What he doesn't know is that Chang (Ken Jeong) has moved in as well…
So the Dean, and Jeff, want this year at Greendale to be different, and the "National Lampoonery is coming to an end this year". Happily, this does not pan out. Things with the Dean immediately get silly, leading to gassing the school's air vents to get rid of a monkey and a rivalry with John Goodman's wonderful Vice Dean. Speaking of John Goodman, the addition of his menacing but charming Vice Dean was a turn of genius. He is a great foil to the weak and flighty Dean, and exactly the kind of man that the Dean would fear and admire.
Jeff finally admits that he needs the study group as much as they need him; his eventual flip out after chasing Chang through the air vents is reminiscent of his attacking Pierce for impersonating his father. The monkey gas (named 'Chimpan-Zzz's' – genius) gives Jeff a hallucination parodying 2001: A Space Odyssey leading to him attacking the table that joins the group with an axe. Classic Jeff, losing his cool as quickly as he desperately tries to hold on to it.
Speaking of Chang, Ken Jeong is on fantastically weird form this week; running in and out of air vents, appearing with a ham in his hands for no reason and generally being as needy and borderline insane as he always is.
In all, this is fantastically strong start to season 3 for Community; a show that seems to get better with each episode.
GS Reviewer: Brogen