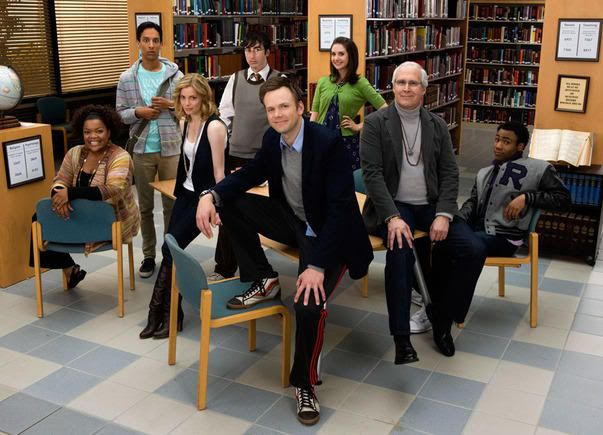 The tensions that were built in last week's episode of Community finally come to the surface. The campus is broken into warring groups as Troy and Abed fight for the seniority of their pillow and blanket forts. The conflict must be resolved in order for Troy and Abed to remain friends, but at what cost?
It has been said before and we will say it again; Community is at it's best when it is completely over the top and silly fun. This week, Community outdoes itself with the war of the pillow forts. The idea of the blanket fort was explored last year in the show, and it could be said that rehashing the idea is lazy, but the good news is that it is done in a completely different way this time around. Instead of the forts being refuges of calm and quiet, they are the sites of struggles for power between Troy and Abed.
The episode is told in a documentary style – which has worked well for Community in the past – but with the added layer of being a war documentary. Instead of this being the story of the people, it becomes the story of the war, told through still images, maps and students' cell phone footage. This lends the episode an even more silly air, but also underlines the losses that could come from this war; the end of Troy and Abed's friendship.
There are loads of great touches to the episode, including Pierce's ultimate weapon – a pillow suit that makes him look like the Stay Puft monster from Ghostbusters – Annie and Jeff's spat over the fact that Jeff is as cynical and uninterested as ever and Britta's designation as official photographer of the conflict, even though she is incapable of capturing a decent image on film.
The conflict finally comes to an end when the Dean reveals that the representative from the Guinness Book of World Records that was due to come to Greendale was fired, so the record attempt is off. In a rather sweet scene, Troy and Abed keep fighting as they are afraid that it is the last thing they will ever do together and they are afraid to stop. Jeff saves the day through some magic invisible friendship hats, and proves that he is not as cynical as he would have us think.
A stellar episode of Community, and one that proves that the show still has plenty of good ideas and a lot more to say – even though most of it is incredibly silly.
GS Reviewer: Brogen Hayes