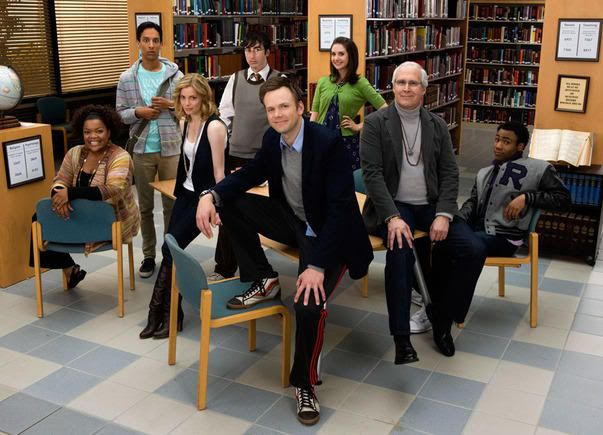 Jeff and Shirley take on some Eastern European students whose noisy foosball games are getting on their nerves, while Annie accidentally breaks Abed's prized limited edition Dark Knight DVD and goes to extreme lengths to cover it up.
Shirley and Jeff have not bonded on Community in a long time; not since the episode on season one that gossiping about people became their reason for being together, so it is great to see the two join forces again. Over the course of the episode, dark emotional traumas from both of their childhoods are revealed and it finally becomes clear that Shirley was the girl who bullied Jeff about his inability to play foosball when he was a child. This only brings the pair together though, and gives them the strength to defeat their foreign aggressors. Of course, this gives us some wonderful one liners from Jeff and the syrupy sweet Shirley, but by far the best has to be "I vish der was a word to describe the pleasure I feel at viewing misfortune" from the German team.
When he learns of his DVD being broken, Annie's elaborate story to cover up the truth results in Abed turning vigilante, and dressing up as Batman to confront the alleged destroyer of the DVD. The laughs of this episode come from Abed's discovery that Batman's physical feats of greatness are not as easy to recreate as he would think.
This episode looks at the evil that lurks under the surface; Annie is so determined to remain the 'good guy' that she implicates the landlord of the building in the breaking of the DVD and it is revealed that Shirley was not always the good Christian that she wishes she was. We knew that already – we get flashes of it when she is pushed to the edge – but it is always good to see under the surface of a sweet character. We always knew Annie had the power to manipulate, we just didn't know we had such a strong power to lie.
In all, this was a pretty good episode of Community, although it lacked Chang and the Dean. Leonard's YouTube review of frozen pizza went some way to making up for it though… And Abed in his Batman costume trying to get off the fire escape.
GS Reviewer: Brogen