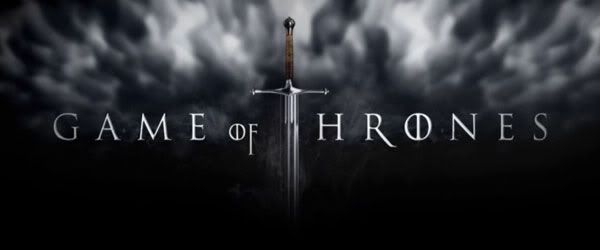 Game of Thrones is a new epic fantasy series based on George RR Martin's A Song of Ice and Fire books. As with all epic stories there is a heck of a lot going on in this first instalment, but unlike most fantasies, this story is more about politics and power than mysticism and magic.
So what is the story? Well, let's try and make it as simple as possible. King Robert Baratheon, who seized power in a rebellion 17 years previously, currently occupies the Iron Throne –seat of power in Westeros. The rightful king Viserys – along with his sister Daenerys – have been exiled, Viserys has decided enough is enough, however and is scheming to reclaim his throne by marrying his sister to war lord Khal Drogo in exchange for an army.
Robert goes to visit the brother of his first wife, Ned Stark. Stark is Lord of a remote ciatadel called Winterfell, and when the king asks him to be his closest adviser, Stark's immediate reaction is that he does not want to leave his home. Stark's daughter is infatuated with Jaime, brother of the king's new wife, but Jaime has his eye on another. Tyrion, the queen's other brother, is more of an outcast than his pretty siblings, but his wit and general desire for life in all its excesses makes him some welcome comic relief for the series, and a character to watch. As well as all of this political struggling, there is another threat – a supernatural force that threatens Winterfell and the people that live there.
I have never read any of George RR Martin's work, but the book that Game of Thrones is based on is an impressive 700 pages long, so it is not surprising that there is a lot going on in this series. The layers of stories are laid down thick and fast, and at times, it is more than a little confusing. The series wants more from its audience than a normal show; it demands concentration, patience and a willingness to stay the course. Thankfully, the actors' performances are strong enough to allow for this. Audiences may not fully understand the relationships between characters yet, or why they are doing what they are doing, but it is easy to see common human traits in the characters, which will keep us going back for more.
Stand out performances have to go to Peter Dinklage (who never disappoints an actor) for his wonderful, subtle and funny portrayal of Tyrion and Lena Heady as his cunning sister. Of course Sean Bean was a strong choice of Ned Stark, he seems most at home in the fantasy genre.
At the moment, Game of Thrones is trying to explain what is going on for the sake of us who have not read the books, and while this is necessary for the sake of understanding the story, it does tilt the axis of the show more toward talk. Let's hope this is resolved as the series continues.
We got a taste of the supernatural element of the show so far, but this was such an impactive opening to a series, that this cannot be the last we see of the mysterious people in the forest.
I have not yet seen a HBO show that I do not like (…Except The Wire. I don't like The Wire) and Game of Thrones seems to be following in the footsteps of HBO's strong catalogue. The show has a lot of promise, and while it is multi layered and complex at the moment, this is preferable to shows that talk down to their audiences. HBO has pulled out all the stops for Game of Thrones, and it is bound to deliver, given time to hit it's stride.
GS Reviewer: Brogen Hayes