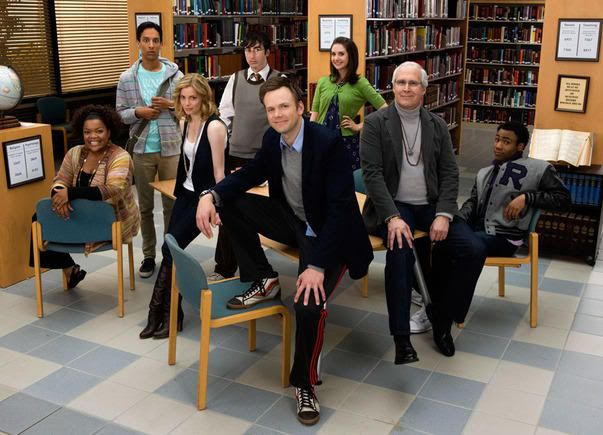 Pierce and Shirley make plans to set up a sandwich shop in the Greendale Cafeteria, but their plans are derailed when Shirley's ex-husband arrives and proposes to her… Again. Britta is roped in to help with the wedding – much to her disgust – and Jeff struggles to come up with a toast. Meanwhile, Troy and Abed decide to de-whimsify themselves out of respect for Shirley's wedding, but are their normal selves even weirder than their weird selves?
It has been three months since last Community graced our screens. For those who are new to the story; Community was put on hiatus at the end of 2011 as NBC were not happy with their viewership ratings. This caused an outcry among Community's dedicated fans and, after the network realised that it was not the show's fault but the time slot – 30 Rock received similar ratings when it replaced Community midseason – Community was brought back. And not a moment too soon.
This week, Britta gets on her high horse about the idea of marriage. It is no surprise that the character is against marriage but we do learn that she has a talent for flower arranging. This leads to Britta questioning her values and morals, and this makes for some interesting viewing, especially when she and Jeff decide to get drunk and marry one another to reinforce their views on marriage. Jeff is questioning his own views as he cannot write a suitable speech for the wedding. When Annie tells him to 'look into your hear' to find the words for the speech we see q fun image of Jeff's heart and the things that matter to him. There are quite a few images of Annie in his heart, is this a hint of what is to come?
Pierce has been fired from Hawthorne Wipes since the death of his father, which leads to yet another crisis for the oldest member of the study group, which is made worse when Subway outbids him and Shirley for the sandwich shop. Troy and Abed's story is an interesting one this week; they spend 24 hours removing all the whimsy from their bodies and become not only 'normal', but boring. Thankfully, as they dance at Shirley's wedding, Annie's Boobs – the monkey – makes an appearance, reminding Troy of all the fun he and Abed used to have. One mention of Inspector Spacetime and Abed is back on board. There has been plenty of criticism about Troy and Abed's antics, but without them, the show has lost one of the many things that made it wonderful.
In all, this is a good episode of Community, but it is not up there with the greats. Creator Dan Harmon said he struggled while the show was on hiatus, and this could be the evidence. It is great to have Community back on our screens and while this was not a bad episode of the show, it was not one of the greats either.
GS Reviewer: Brogen Hayes