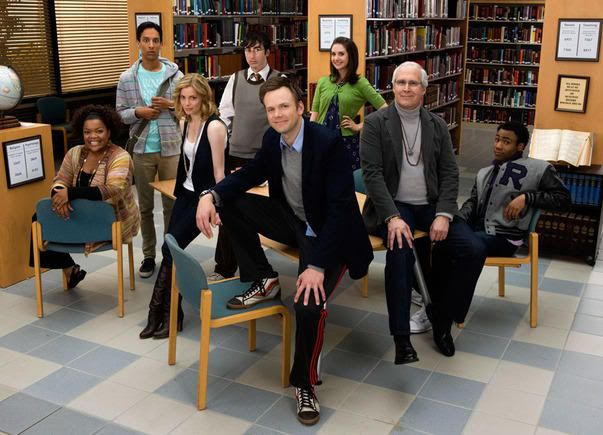 Two months after they were expelled from Greendale, Abed is the only member of the study group that believes there is more to their expulsion than meets the eye. After he is caught sneaking around the Greendale campus, Abed is forced into therapy – or risk prison – and the group realise that while his crazy may have ramped up recently, Abed may be right.
Do you remember the season two episode of Community, Paradigms of Human Memory? Well, this newest episode is something similar. The episode runs as a clip show, as the group reminisce about Abed's slightly more crazy outbursts of late and Dr. Heidi (John Hodgman) tries to convince the group that the college never existed.
As with the episode last season, the flashbacks and clips are new to the audience and brilliantly funny; Abed freaks out about Daylight Saving Time, calls Shirley a 'bad person' for daring to call Brett Ratner the 'new Speilberg' and narrates Pierce while he eats a sandwich. As well as this, the group remembers their own 'crazy' behaviour throughout the year – quad bikes in the library and Britta's use of peyote feature heavily – and then Dr Heidi tries to convince the group that Greendale was actually an asylum and they are all sharing a delusion. It's just crazy enough to be true… Isn't it? Well yes and no; as we saw in the previous clip episode, the group have already been committed before and escaped it and we do know that the Dean has actually been replaced, as Abed suspects. The show also manages to poke fun at itself; Dr Heidi questions why so many of the gang's memories of Greendale involve adventures that only include the study group, and why, if they originally met as a Spanish study group, none of them can speak Spanish. Brilliant.
While the flashbacks are inspired and hilarious, the star of the episode has to be John Hodgman, recently seen as Lewis Green in the fantastic (and tragically cancelled) Bored to Death. Hodgman plays the same kind of slightly arrogant character as he did on Bored to Death, but manages to unsettle every member of the study group and antagonise Britta's delusions of grandeur. An inspired turn.
This episode of Community was fantastic as a stand alone episode, but it also sets up the end of the season, as it sets the gang on the track of Chang and the false Dean. It is episodes like this that gained Community it's fantastic reputation as a comedy show, and the news of it's renewal for an albeit shortened fourth season is good news. This will bring the show to 86 episodes in total, still not quite enough to sell it into syndication, but with such an ardent and passionate fan base, it is bound to be picked up… Isn't it!?
GS Reviewer: Brogen Hayes