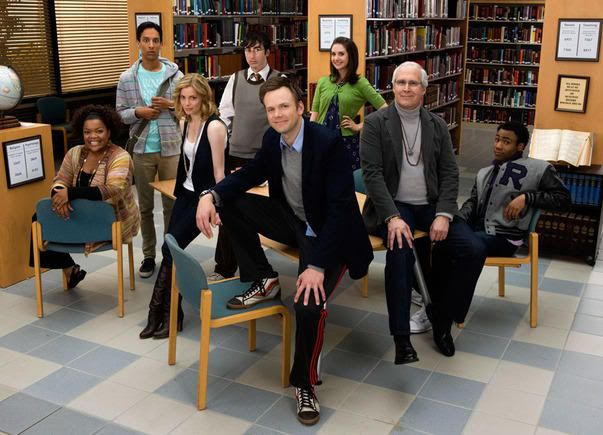 Subway has pulled out of Greendale in the aftermath of the Starburns Wake Riots and the Dean has decided that Shirley should have her sandwich shop after all. The trouble is that she and Pierce are co-owners of the shop, and there is only one space on the form for the owner to sign. There is only one solution; Greendale court!
So it seems that all is back to normal at Greendale. Jeff is valiantly trying to study for his biology final, and the group are trying to distract him. As well as this, Evil Abed has made a reappearance and is trying to make the current timeline as evil as possible, even if that means sawing Jeff's arm off, and Troy has finally given in and joined the air conditioning repair school. Britta is mourning the loss of Troy and while Abed torments her, the rest of the group are pulled into a makeshift court that mainly serves as the Dean's catwalk.
While this was a great and very funny episode of Community – there are some great one liners, and Evil Abed's version of Abed's catchphrase is just inspired – it just did not feel like a season finale episode for the show. We are used to seeing the entire school thrown into chaos at the end of each season, and although that happened in the previous episode and there were a lot of loose ends to be tied up, the episode felt somewhat disappointing. This episode also saw the end of John Goodman's character the Vice Dean; he is killed off by a jealous underling. This is sure to be a loss for the show. Goodman did not turn up very often, but when he did, he was brilliant.
In all, this was a standard episode of Community; inventive, funny and just a little bit silly, but it did not feel like an end of season episode. Thankfully we have a new, albeit truncated, season of the show confirmed so we have something to look forward to in the autumn. The questions that remain are, will Chevy Chase be back? – he has had a few run ins with the show's creator Dan Harmon – and how many members of the study group can live in one apartment?
GS Reviewer: Brogen Hayes