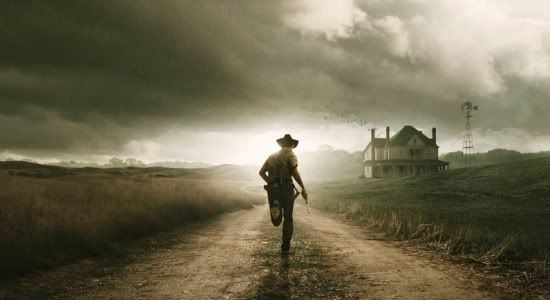 When last we saw the gang of The Walking Dead, Beth was in some sort of shock-induced catatonia, Rick, Hershal and Glenn were holed up in a bar in town and Lori had gone to look for them and crashed her car in the process. The gang in the bar quickly realise that they are in the middle of a standoff with Tony and Dave's companions and must fight their way out of the bar, while avoiding the Walkers. Back at the farm, Lori's absence is quickly noted and Shane drives out to find her.
The tension at the farm continues to build at the camp. This is not helped when Hershal, Glenn and Rick bring back one of the injured men who held them captive at the bar. Their plan is to help him then set him off on his way, but there is the fear that this will lead to a full out war between survivor groups. Shane is clearly inching closer and closer to a full on meltdown; and Lori finally confesses her fears to Rick.
Maggie and Andrea bond at Beth's bedside, but this does not soften Andrea in any way; she soon calls Shane on his clumsy manner and he reveals that he probably should have left the group a long time ago. Maggie and Glenn butt heads over his fears that the relationship is making him weak.
This season of The Walking Dead is all about the relationships between the characters, and this episode is no exception. Tensions are mounting and Shane's erratic behaviour – and obsession with Lori – is not helping matters. It is surely not going to be long before he completely loses it, and it will be up to Rick to bring him down.
The honeymoon between Maggie and Glenn is finally over, and it seems that their relationship may be heading towards its end. Does this, coupled with Shane's inevitable flip out, mean that the group will be divided in time to come?
The Walking Dead has changed from a zombie action show into a slow burning drama, and while the tension is being built through every episode, it seems that the show is running out of steam to some extent. Arguments and disagreements are being drawn out for the sake of drama, which could lead to the audience being alienated from the action that is happening on screen. The idea of Lori's car crash was an interesting cliff hanger to end last week on, but it was so quickly resolved that it seemed like a waste of time. The only development from this week's episode that may lead to some change in the dynamic of the group is the introduction of Randall, and one can only hope that this addition is going to add speed and pace to the show.
The Walking Dead is still an incredibly well acted drama, but a lack of Walkers and drawn out plot points are on the verge of damaging the show. The temptation to make the second season a longer one was obviously a great one, but The Walking Dead may have been better left to a shorter, less wordy season.
GS Reviewer: Brogen Hayes