There have been many adaptions of Doyle's Hound of the Baskervilles before Hammer's interpretation. The trend can be traced back all the way to Germany in 1914 under Vitascope and Alwin Neuss as the first Sherlock Holmes. Before dueling mall cop movies, Hound would become the first dueling theme put out by rival companies Pagu and Greenbaum in 1915. Numerous years and adaptations later, FOX put out their version of the story with Basil Rathbone and John Carradine 1n 1939. While it was one of the first adaptations that kinda stuck true with the source material, there was  red herrings up the ass which somewhat takes away from the movie. After the Rathbone version, the property was retired a while until it was finally brought back again by Hammer.
While Hammer's version of The Hound Of The Baskervilles wasn't a true adaptation, it was a lot more suspenseful and had a lot more scares to it. They were the first to bring the adaptation to color as well as the first to give the legend it's very own sequence in the film. Terence Fisher and Jack Asher  try to recreate their Dracula motif in this film. They even use and recycles several compositions from the Dracula score is several places. It works though. Cushing's Sherlock Holmes is the beacon of reason to fight against the superstitious legends of the moor is considered on of the best displays of the fabled character in the history of cinema. This was also Christopher Lee's first speaking role and he doesn't disappoint. This film also shown that Fisher can work outside of his collaborations with Sangster.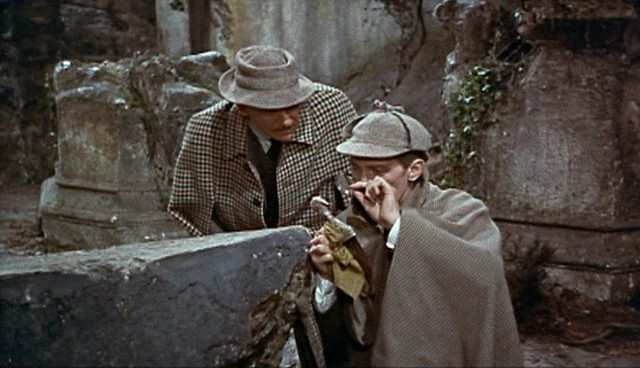 While this was supposed to be the start of a line of Sherlock Holmes films, the movie didn't do too well in the box office. Many mystery fans were really turned off by it's somewhat supernatural atmosphere. Fisher's direction lost in translation. And all of those who loved Hammer Horror didn't like it because there  wasn't much gore or scares. It relied on straight up suspence thanks to Peter Bryan's script. So in the end, not many people came and watched and the film bombed. I think the major problem was the pacing wasn't good enough for everyone and a good chunk of the film didn't have Holmes in it.
In terms of constructing your very own Hammer collection, this is a low end required movie. While yes, this is a must have, I'd say go after it after one collected all the big three monster films. (Frankenstein, Dracula, The Mummy). The MGM DVD is okay for what it is, but it does come with an interview with Lee on the film as well as a couple exerpts of the original story read by him.
**********
The Man Who Could Cheat Death is one of the more lesser know Hammer films. The movie is based off the Barre Lyndon play The Man In Half Moon Street. The play was picked up by Paramont and a movie was made under the same name and deals with gland transplantation to secure eternal health.
The films stars Anton Diffring as the title character, Dr. Georges Bonnet, a surgeon who moonlights as a sculptor who looks to be in his late 30's, but is actually 104 years old.He is in the middle of a dilemma in which in order for him to live longer, he would need a thyroid transplant every ten years. In order to sustain himself after that, he must drink a preservative every six hours. During this time he runs into an old flame (Hazel Court) and her current beau, Dr. Giraud (Christopher Lee). Falling back in love, Bonnet is more determined to stay alive. When his fellow colleague, Dr. Weiss (Arnold Marle) shows up unable to operate him due to a stroke, Bonnet goes to extremes to get Giraud to work on him. All the while, he goes insane due to the effects of the preservative.
While this is another Fisher/Sangster/Asher colab just like most the others, I can't help to say that this is the teams more weaker efforts. It's like Fisher wanted both Frankenstein and Dracula motifs when he did Cheat but Sangster concentrated to much on that idea and in the end, came out as a movie overweight with dialog. Not to mention that the film was very limited in sets, making it feel more like watching a play on film. This was Christopher Lee's first outing as a protagonist, but the script makes his character rather tame and somewhat lifeless. As a matter of fact, everyone's role seemed a bit tame other then Court's character, who really stood out with more energy then the rest. The only other good thing is Asher's superb cinematography and expert use of technicolor. His lighting techniques help keep the mood at dark sinister levels.
In terms of collection…if you are a Terrance Fisher fan, I'd say go for this one last. Hel, as a general horror fan, I urge you to pick this one up last. The DVD that was released by Legendary/Paramont is just bad. It's one thing to release a bare bones disc, but to not even put forth the effort in trying to clean up the print is down right sad. It treats the collectors like hungry dogs. I'd wait for a better version to be put out later.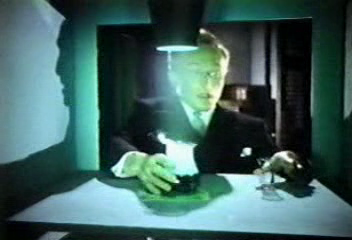 Hey! If you have any comment or you'd like to ask a question or two feel free to either leave it in the comment box or email me at [email protected] Love to read from you