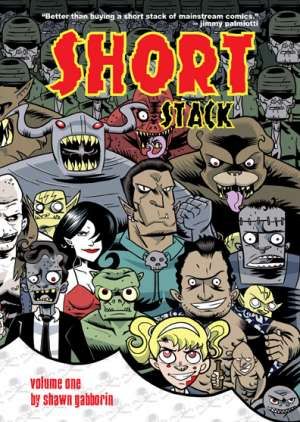 There's a definate art to writing short comic stories and its one of the things us British generally do better than our American counterparts. At the recent Bristol Comic Expo a few writers on one of the panels were discussing how Marvel had been asking their writers to submit 7-10 page backup stories and while the Americans were panicking and wondering how to compress a story down that much, the UK writers having been brought up on one page Beano strips and six page 2000AD ones were taking it in their stride.
Thats why its so unusual to see American writer Shawn Gabborin take on such a weird project as this and also to do it so well.
You see Short Stack is a collection of horror stories, all written by Shawn, each illustrated by a different artist and each only TWO PAGES LONG! Thats two pages to set up a premise and deliver a horrific kick. No small task, especially when this book collects over 50 such stories.
The tones are all different. Some are slasher, some psychological horror, some darkly comedic but all deliver on the promise of giving you a full story. Reading this book is kind of like channel hopping where every station is showing a horror movie and you are luckily landing on the coolest bit. The amount of original ideas per page is through the roof and any writer reading this would first cringe at the "JUST two pages?" factor and then berate Mr Gabborin for not coasting on his creativity. Anyone else would have taken five of his fifty story ideas and padded them out to cover the same page count.
Buy hey. His loss is our gain.
I'm not going to say EVERY story here hit the mark for me, and with over fifty artists involved not every art style did it for me either. But the way this book is put together that doesn't really matter as any that dont float your boat soon make way for the next one.
Now in the interests of full disclosure I should add that when Shawn put this trade together collecting the first four issues of short stack he offered a few other writers the chance to put in a two pager of their own, and I was one of those he asked. And I'm sure this was only because I had read the first two Short Stack issues and had taken the time to tell him how impressed I was and how f***ing crazy I thought he was for attempting this. So as a result, it would be unfair of me to rate the book, even though my contribution is only about 1% of it. I would however encourage any fans of horror fiction to check it out as it's truly a unique book and well worth your time. It's also an excellent way to have a look at what the next generation of comic book artists are currently working on.
Details of this and Shawns other projects can be found here