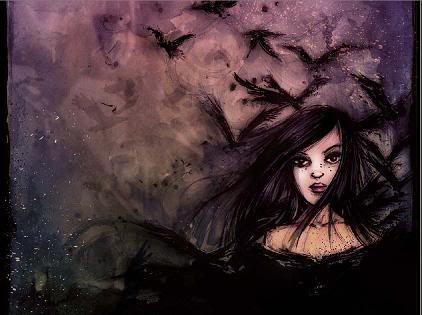 Dream Lover is a new, one-shot comic book written by Sissy Pantelis and painted by Valia Kapadai which will be available in a limited colour edition at this years Bristol Comic Con.
Without giving away too much it's the story of a girl who meets a tall, dark and seemingly supernatural stranger at a party and who falls in love without truly knowing if he was real or the result of a drug she was spiked with.
As you can probably tell from the description above and the artwork, this book is more than a little goth. I know that isn't for everyone, but speaking as someone who read James O'Barr's The Crow every other month for about three years, I really enjoyed it. It is probably written more for a female audience than a male one but in the same way a book like Interview with a Vampire was. You'll buy it for your girlfriend, read it when she isn't looking and get into it yourself.
The whole thing feels very poetic but without getting too slushy or flowery and only stumbled for me slightly with the use of the "Centaurin" drug. The person who used it didnt really seem like the type to slip someone a borderline date rape drug and his "Here's what I used and here's exactly what it does" did feel a little exposition-y. That said, as a shortcut to tell the main story without getting too sidelined it did its job.
The fully watercoloured artwork is absolutely beautiful and I'm really hoping to see some of the original pages at Bristol. The style is very out of the norm for comics but the story telling in the sequentials is really solid so it still reads like a comic book as opposed to what you sometimes get with painted stuff which is a series of good, but very static images. It's a bit short, running at around 20 pages, but those who have scoured the indie tables at comic cons in the past will know this is about the norm for self published issues.
Like I said before, this book will probably go down very well with the Twighlight crowd, but that shouldn't put off anyone else from checking it out… even if you do pretend to be buying it for your girlfriend. The synopsis wouldn't have made me pick this up and would probably have made me dismiss it as the type of story you usually get in teen manga, but I'm glad I did check it out and I'll definately be picking up a copy at Bristol. You know, for the wife -cough-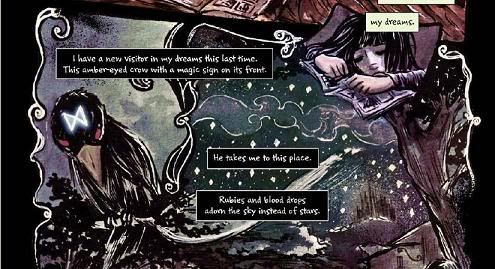 Marks out of 5 – 4
Dry Slaps – 1 for the Unobtainium… sorry, I meant Centaurin.