Writer – J. Michael Straczynski
Penciler – Olivier Coipel
Inker – Mark Morales
Colorist – Laura Martin & Paul Mounts
Publisher – Marvel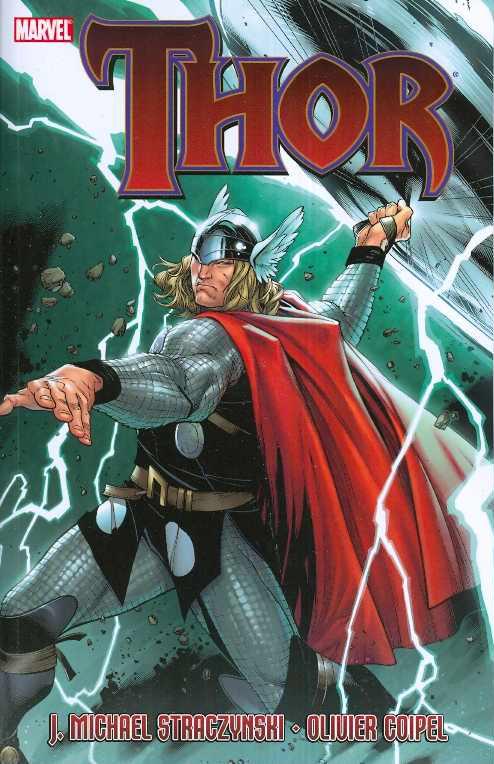 Returned to the pantheon of great Marvel heroes, the Asgardian God of Thunder is reunited with the mortal form of Dr. Don Blake. Together, they must reckon with the legacy of the mythic Norse kingdom and the awakening of its immortal heroes – but in a world that may not want it back!
This first volume collects together issues 1 to 6 of J. Michael Straczynski's relatively short run on Marvel's Norse Thunder God Thor. I came to this trade via the Comixology app for the Ipod Touch who were offering issue #1 as a free download and also via a review by PJ Holden on the brilliant Sunnyside Comics podcast.    
I am by no means a Thor expert (or any cape and tights expert come to that) so I will try and give a brief plot rundown but please bear with the newbie.
The story opens with Thor stuck in some kind of void and is called back into existence by his human host Dr Don Blake.  Dr Blake then travels from New York to Oklahoma where Thor rebuilds Asgard and set's about feeing his fellow Asgardians who are hidden across the Earth in human form. Along the way Thor visit's New Orleans and witnesses  the devastation wrought by hurricane Katrina and laments his and other heroes lack of help (not so good), has a hardcore slam down with Iron man and totally kick's his ass (highlight of the book for me) and also intercedes in tribal warfare in Africa (very good).
The story progresses at a cracking pace and there's plenty of action, twists and revelations along the way. However I did find parts to be a little 'preachy' especially the New Orleans visit which tries and for some reason fails to ground the story in reality, on the other hand the trip to Africa with Blake working for Medecins Sans Frontieres was extremely satisfying if again a little over the top.
However the real star of the show in this trade is the artwork. The action in conveyed brilliantly and the character design if first class, I particularly liked Thor and Heimdall, but also the lesser characters in the book like the townsfolk also standout. The pencil work by Olivier Coipel is very clean and well defined and then there's the colouring by Mark Morales which is quite simply stunning throughout the book.
All in all this was a great read that hit all the right spots for me with the exception of a few slight niggles and I look forward to getting stuck into Volume 2.
Reviewed by
GS Rating – 4/5. BRAKKADOOOOOM!
Dry Slaps – 1 The crow baring in of social commentary into a cape and tights book, was a misfire for me in this particular case.
GS Reviewer – Nick Roberts